Pre-school Riding Lessons (up to age 8-9)
I cater to children of all ages but specialise in giving riding lessons to younger children and teaching them horse management.

As an Early Childhood Teacher it is my belief that children are capable at a very young age to learn and develop any skills or interests they are given the opportunity to try. I foster their confidence and skills at an age and skill appropriate level to encourage each of my little riders.

My lessons are one on one and safety is my top priority and focus. Having one on one allows me to teach and guide each specific skill while maintaining that close connection with each child.

I teach many skills including safety and horsemanship, mounting and dismounting, holding the reins, positioning of your body, and control of the horse at all speeds. I will not progress a child until they are confident with the skills that are required to control and stop a horse. Each little person learns at their own pace, while having fun. We even play a game or two!
I keep a checklist of each child's achievements and I am well known for giving the children wonderful certificates to celebrate their achievements, as it is a big job learning to ride and i believe encouragement is the best reward. I also love giving out stickers for great jobs and special reasons, another way I can show the children, your doing a great job, well done! My hope is that each little rider will have the skills to continue riding and attend pony club, and if they had that opportunity they could easily sit their Pony Club D Certificate and pass straight away, if they were an older child, we could work on the Pony Club C Certificate checklist.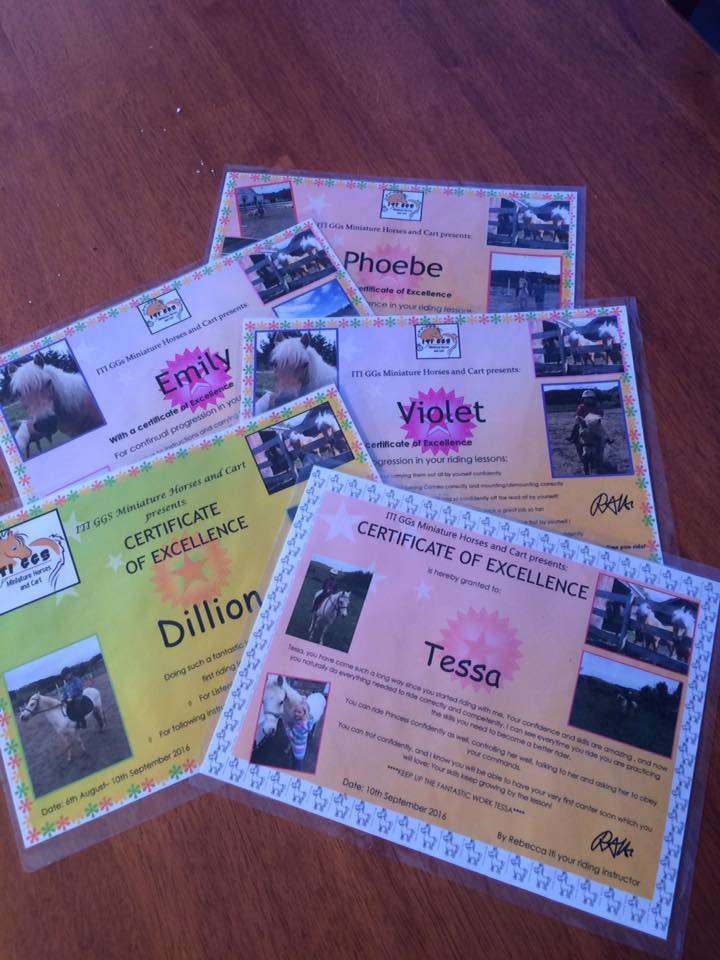 I attended Pony Club in my younger years and now love fostering children's love for horses. This love for horses might one day result in them having the wonderful opportunity to own their own horse, and I'd like the basics and groundwork to have been instilled so that the care, love and riding of their horse comes naturallly.

My lessons are on our small farmlet in Kaukapakapa (half an hour north of Albany), and when my property is too wet i have an arena 4km from our farm that we are able to use to continue in the winter.

Each lesson is approximately 45mins to an hour depending on the child's interest and concentration. Some young children will stay on for the full amount of time, whereas others will enjoy a small lesson and then ask to get off.
Please note that the riding lesson charge is not returned/discounted if your child has a shorter lesson time as the charge also covers my time and preparation before and after your visit.
Pre-schoolers: I specialise in pre-school riding lessons on Sahara (Sassy) or Caspian (Cas), each lesson is only half an hour long, plenty long enough to keep a pre-schooler concentrating. Each lesson is $35 and this is charged whether the little person stays on for half an hour or less, as it covers my time preparing and cleaning up afterwards.

We have swings available close to the paddock for children's extra enjoyment or that brother or sister that needs to be distracted.

Parents are welcome to sit and watch, however as part of our health and safety requirements all other children must remain seated or outside the area rides are being done in.

Cost: $35 for a half hour for 5 years and under and for children 5-10 years $45 for a 45 minute lesson, or a saddle club lesson for 1 hour for $55, this includes learning what's involved in owning a horse, catching etc.
Safety helmet: Each child is supplied with a correctly fitted safety helmet, or is welcome to bring their own.
Clothing and footwear: Long pants and gumboots or suitable covered footwear is a must.
Age range: Riders can be as young as 1-2 years and as old as around 8-9 years, they just have to comfortably fit my miniature horses or one of our ponies. Please note for the 8-9 year olds we have 2 ponies, one is for very much beginner riders, and my other pony has not yet started lessons, his age group will be for 7-8 year olds.
Cracker can comfortably take a small 8 year old and Cessie takes the larger children has a maximum limit of approximately 30-35 kgs (her maximum weight carrying ability is bigger than this but we keep it well under for her welfare and health)
Please give me a call today if you have any questions or would like to book a lesson or purchase a lesson voucher for that special little person in your life.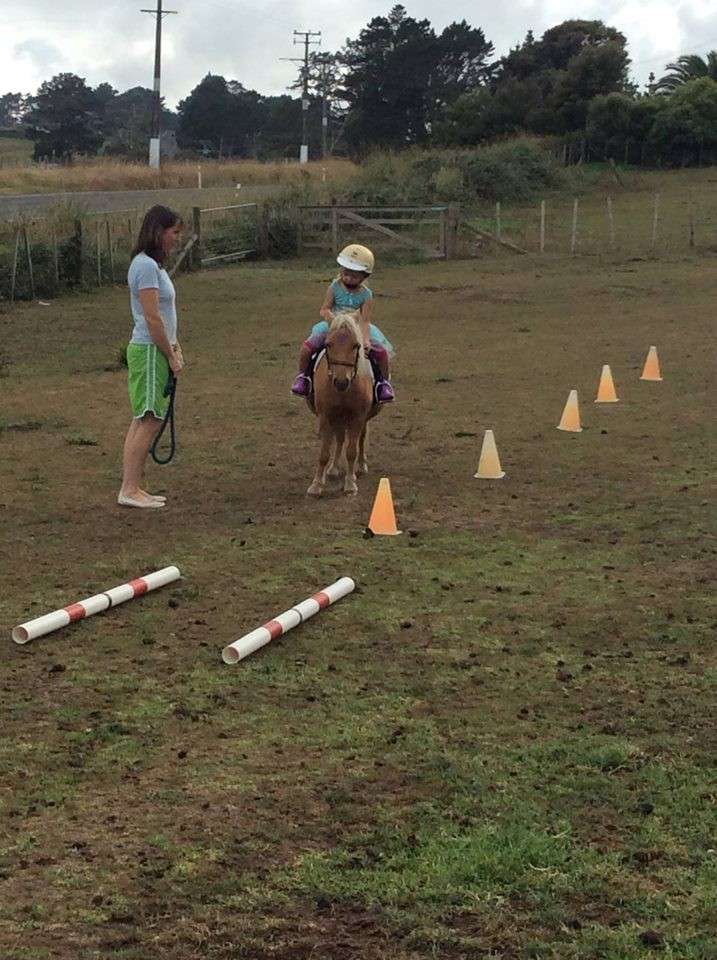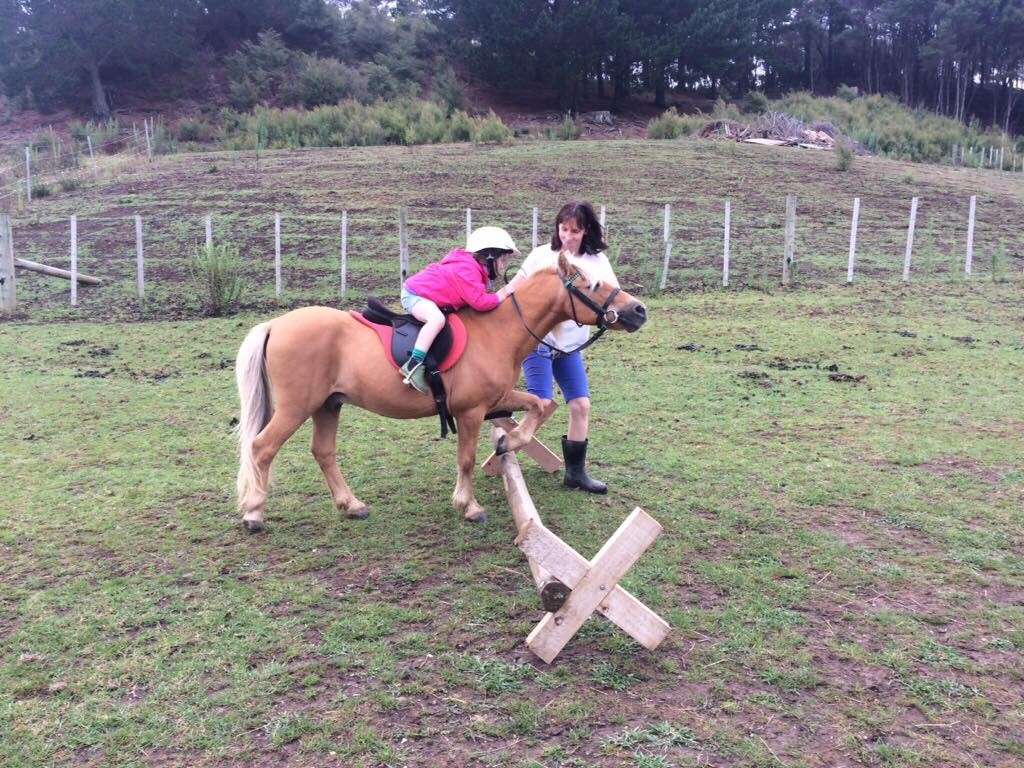 Learning to jump is so much fun!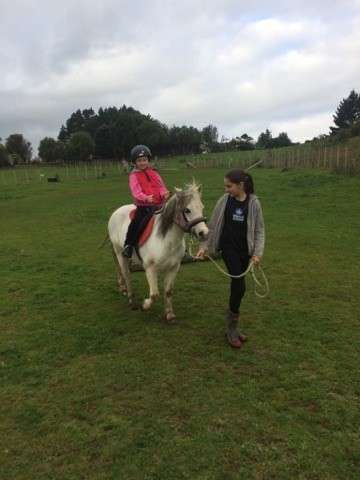 Mackenzie helping out while I am unable to do lessons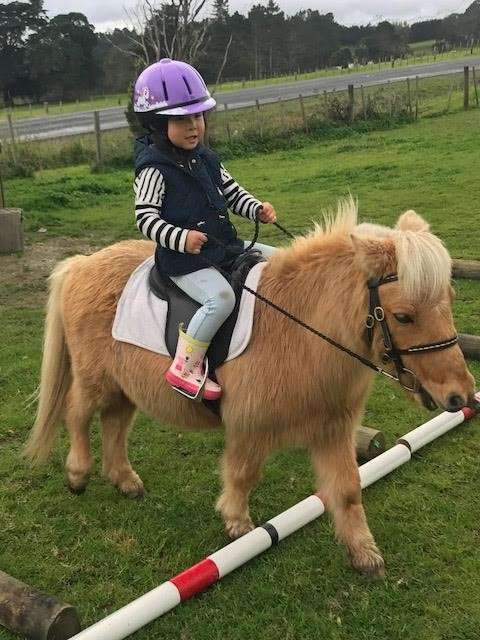 3 year old ! loves being off the lead on her friend Sassy ! (2017)